May 21, 2020 by
A fresh blanket of snow has covered the UK for another week in Forza Horizon 4, as Winter has made its return. Deep among the drifts lies another helping of events and new content.
The latest Winter playlist comes with an updated pair of prizes for 50% and 80% completion. It's a double dose this week, with an intriguing Mitsubishi and another iconic Toyota both making their way to the festival this week.
Let's take a look at Winter's content.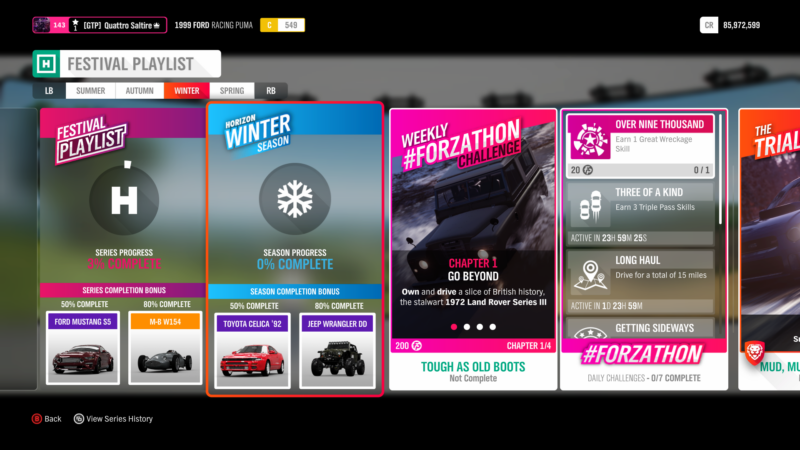 Starion & Celica Team Up Together
This week sees another Toyota Celica arrive at the Horizon Festival. We've gone back in time a little, from the ST205 earlier this month to the ST185 generation from 1992.
During its competitive life, the Celica would establish itself as one of the most successful rally cars of the 1990s, including bringing Toyota's first manufacturers championship in 1993. Under the hood lies a 2.0-liter turbocharged engine putting out a healthy 232hp. Coupled with four wheel drive, the ST185 will stand out as a fully fledged JDM classic.
If you're after more brute strength for tackling the snow, there's the Jeep Wrangler by DeBerti Design. With a host of off-road modifications, this Wrangler will crush the snowy terrain. There's some serious firepower for the Wrangler, courtesy of a 707hp, 6.2 liter supercharged Hellcat V8.
This week's prizes in the seasonal championships include the Quartz Regalia Type-D and the BMW M6 Forza Edition.
The big standout this week is the 1988 Mitsubishi Starion ESI-R. As Mistubishi's entry into the sports coupe market, the Starion foregoes four-wheel drive in favor of rear-wheel drive. There's a 2.6-liter turbocharged engine producing 188hp, which doesn't sound much but will still prove to be fun to slide around the icy UK roads.
You'll need to win the "Mud Is Thicker Than Water" championship to acquire the Starion.
This week's prizes are listed below.
Offroad Rampage
Series: Cross Country Series
Cars: Offroad
Restrictions: A Class, 800 PI
Prizes: 15,000 CR, 25,000 CR, Land Rover Series III FE
Cold Commute
Series: Road Racing Series
Cars: Daily Drivers
Restrictions: A Class, 800 PI
Prizes: 15,000 CR, 25,000 CR, BMW M6 FE
Mud Is Thicker Than Water
Series: Dirt Racing Series
Cars: Modern Rally
Restrictions: B Class, 700 PI
Prizes: 15,000 CR, 25,000 CR, Mistubishi Starion ESI-R
The Trial: Mud, Mud, Glorious Mud (Co-Op Championship)
Series: Dirt Racing Series
Cars: Evo vs Impreza
Restrictions: B Class, 700 PI
Prizes: 2004 Subaru Impreza STI
Winter Games – Series 22
Series: Playground Games
Cars: Extreme Offroad
Restrictions: C Class, 600 PI
Prizes: Quartz Regalia Type-D
M68 Speed Trap
Season Objective: 270 mph
Roman Ruins Danger Sign
Season Objective: 557.7 ft
Royal Terrace Speed Zone
Season Objective: 108 mph
Forzathon Events
Forzathon looks at a car that's more than capable of tackling the British Winter this week: the iconic Land Rover Series III. Jump in to this piece of history to get started.
Next up, show how your Land Rover is unstoppable by earning 20 Wreckage Skills. Afterwards it's off to the races, as you'll need to win a Cross Country Series event at Ambleside Rush Cross Country.
Finally, chill out by going for a relaxing drive. The distance? A leisurely 15 miles, which should not be a problem with the Land Rover's go-anywhere ability.
Forzathon Shop
It's another mixed bag in the shop lineup this week. Leading the way is the Hot Wheels Bone Shaker.
This may look like a classic hot-rod, but underneath is the running gear from a Corvette. As a result, the Bone Shaker comes in at a lithe 2,205lb. With a 400hp, 5.7-liter V8 providing the power, the Bone Shaker will leave you rattled by its performance.
You'll need to part company with 600 Forzathon Points for this one. If you're still short of completing your Hot Wheels collection, then be sure to grab one.
Alongside the Bone Shaker sits the 2003 Renault Sport Clio V6. This mad hatch channels the spirit of the old Renault 5 Turbo, by dropping a thumping 3.0-liter V6 where the rear seats would normally be. Despite having 250hp, the Clio's short wheelbase will make it a handful through the corners, especially in the snowy conditions.
The Clio will set you back 450 FP. If you're eager to experience one of the modest insane hot hatches of the Noughties, then look no further.
Cosmetic items available this week include the Galaxy Skirt and the Golden Skirt.
More Posts On…