May 3, 2020 by
After six weeks of exciting and intense competition, the IndyCar iRacing Challenge has ended in controversy. The 70-lap race involved one of the most controversial incidents yet, and a further collision on the finish line that changed the results.
This weekend's 175-mile race at the virtual Indianapolis Motor Speedway was supposed to be a showpiece end to the season of digital racing. It had all the ingredients too, with the race honoring the USA's first responders — including the Indianapolis Fire Department performing the national anthem and New York City first responders giving the engine start command.
The series thus far had shown Simon Pagenaud to be the undisputed king of the ovals, with two wins from two. Last year's Indy 500 winner was thus a firm favorite, as was McLaren's Lando Norris who managed to win on his series debut at COTA last weekend.
Both drivers were on for potential victory in what had been a pretty well-behaved race, but with 10% race distance remaining things went south. Norris, on fresh tires from an unusual pit stop strategy, cut down the inside of Graham Rahal on turn one of lap 63. Although the two didn't make visible contact, Rahal's car moved right and hit Pagenaud's Penske into the outside wall.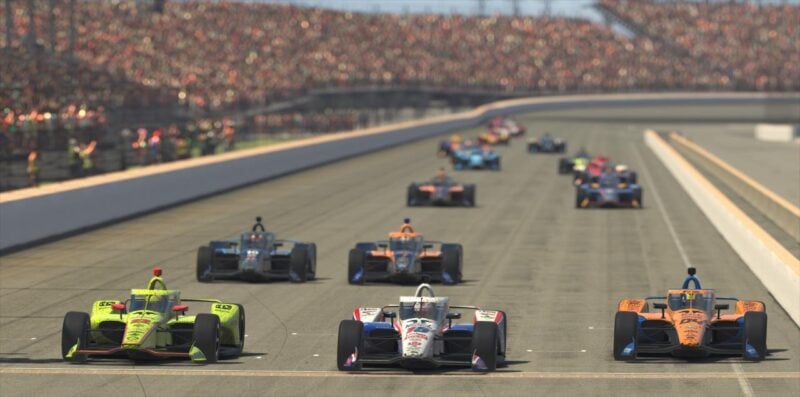 Viewers of Pagenaud's stream — which you can see here — saw the Frenchman and his spotter talking about Norris's move as he headed to the pits to repair the damage. Leaving the pits two laps down, Pagenaud stated "We take Lando out. Let's do it!".
After coasting round for three laps to allow the leaders to catch up, Pagenaud stuck to his word. Adopting a unpredictable line through turn four, the Penske driver made himself very difficult to miss, and Norris — still leading — duly slammed into the rear of Pagenaud's car. Apparently forgetting his own pit stop and statement from three minutes prior, the Frenchman exclaimed "I was pitting! Ohhh, I'm sorry, I didn't mean to do… ugh."
Norris actually called Pagenaud after the incident, during which Pagenaud claimed he was only trying to slow Norris down because he didn't want him to win. After viewing the stream above, the British F1 driver commented:
"Do you know how many times I've done this? I must have spent 24 hours driving in a straight line and turning left, trying to perfect it with the most delicate touch.

"I've tried doing it one-handed, with my knee, 24 hours and then… Because a guy gets a bit salty that a non-IndyCar driver is about to win an IndyCar race, so, yeah. That's that."
It wasn't just Norris's McLaren that was in the wars. After the initial Rahal-Pagenaud incident, the Papaya Orange cars were running 1-2-3 with Oliver Askew and Pato O'Ward making up the podium. After Pagenaud took out Norris, and O'Ward and Ericsson collided, Askew was left to take the checkered flag.
That didn't happen either as Santino Ferrucci swerved into the 23 year-old mere feet from the yard of bricks and handed the win to Scott McLaughlin. Like the incident with Pagenaud, Ferrucci protested his innocence after the race but had made comments on his own Twitch stream at the time stating it was intentional.
These incidents have somewhat soured the image of IndyCar and iRacing after five weeks of good quality racing. In a race series drawing in hundreds of thousands of viewers on streams and on broadcast television, with a charity element, this curtain drop risks being the lasting memory.
Whether there are any further consequences for Pagenaud or Ferrucci — who once earned a four-race ban in F2 for deliberately crashing into his team mate — remains to be seen.
More Posts On…