August 31, 2020 by
Qualifying will be king in this week's GT Sport Daily Races, as the action heads to three circuits where legitimate passing places are at a premium.
That all starts with Race A. This will jet you over to the Tokyo Expressway, a number of fictional circuits based on real sections of the highways around and through Tokyo. For this week it's four laps of the Central Inner Loop, the clockwise running of the squared-off, 2.7-mile variant.
The tight — only three lanes wide at most — and twisty track won't provide many overtaking opportunities, but will be trigger-happy with the penalties and SR Downs. You get an excellent, and appropriate, car for the task though, with the Honda Integra Type R. This DC2-generation model is often held as the best front-wheel drive car ever made.
Race B will be an object lesson in biding your time, as you head to the Nurburgring Nordschleife. This fearsome old ribbon of asphalt, averaging just six meters in width, is now the standard test track for car manufacturers around the world. For most of its 12.9-mile length there's a single racing line and anything else is just a crash waiting to happen. You only get one lap this week, in the road car-based Gr.4 race cars, so make sure your overtake counts.
Continuing the theme of racing on public roads, Race C takes you Australia, and the Mount Panorama circuit. This long stretch of track is no less open than the other two options this week, with a tight, wall-lined ascent and descent of the mountain. You'll be racing in the Gr.3 race cars that feature in the famed endurance race here each year, though you'll only have nine laps to hit the front.
These three races will run through to Monday, September 7, when another new set of three will replace them.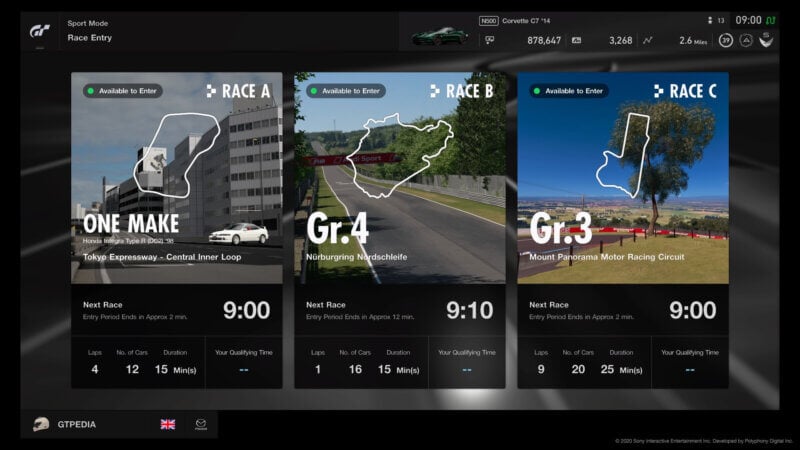 Race A
Track: Tokyo Expressway – Central Inner Loop, 4 laps
Car: Honda Integra Type R (DC2) '98 – Provided Car
Tires: Sports Hard
Start Type: Grid Start
Fuel use: Off
Tire use: Off
Race B
Track: Nurburgring – Nordschleife, 1 lap
Car: Gr.4 – Garage Car
Tires: Racing Hard
Start Type: Rolling Start
Fuel use: Off
Tire use: Off
Race C
Track: Mount Panorama, 9 laps
Car: Gr.3 – Garage Car
Tires: Racing Hard
Start Type: Rolling Start
Fuel use: 2x
Tire use: 6x
More Posts On…